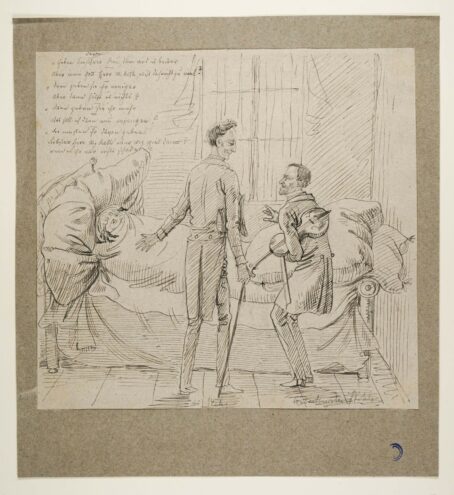 The pen-and-ink drawing is by Ludwig Emil Grimm, Jacob and Wilhelm Grimm's youngest brother. He worked as a painter, draughtsman and etcher, and was a professor at the Kassel Arts Academy from 1832 onwards. The "painter brother", as he is often called, documented the life and work of the famous linguists and collectors of fairy tales, and the rest of the Grimm family, in a variety of ways. Many of his works can be found in the City of Kassel's Grimm Collection. The drawing shown here shows concert master Adolf Wiele in a dialogue with his GP Dr. Wehr at his wife Friederike's sickbed. Wiele, with his violin tucked under his arm and in a hunched-over position, is speaking urgently to the doctor. The drawing records the bizarre conversation about the right dose of medicine:

"Give your wife some of this, it will make her better
But good heavens, doctor, surely that's too much?
Then give her less
But then it won't do any good?
Well, give her more, then…"

Wiele was a well-known character in Kassel – a violinist in the orchestra at the Electoral Theatre and subsequently its concert master – and a relative of Ludwig Emil Grimm. Wiele's first wife, who died young, was Johanna Böttner, a younger sister of Ludwig Emil Grimm's wife Marie Böttner, so the two men were brothers-in-law. Even if Ludwig Emil Grimm is unlikely to have actually been present at this scene, he knows the characters well, and this humorous sketch is probably a record of the anecdote as he heard it told.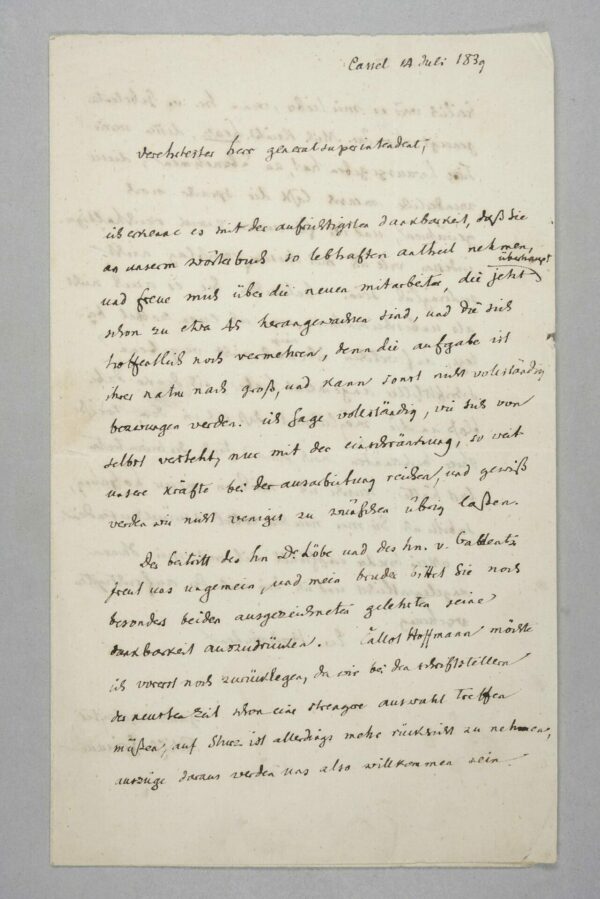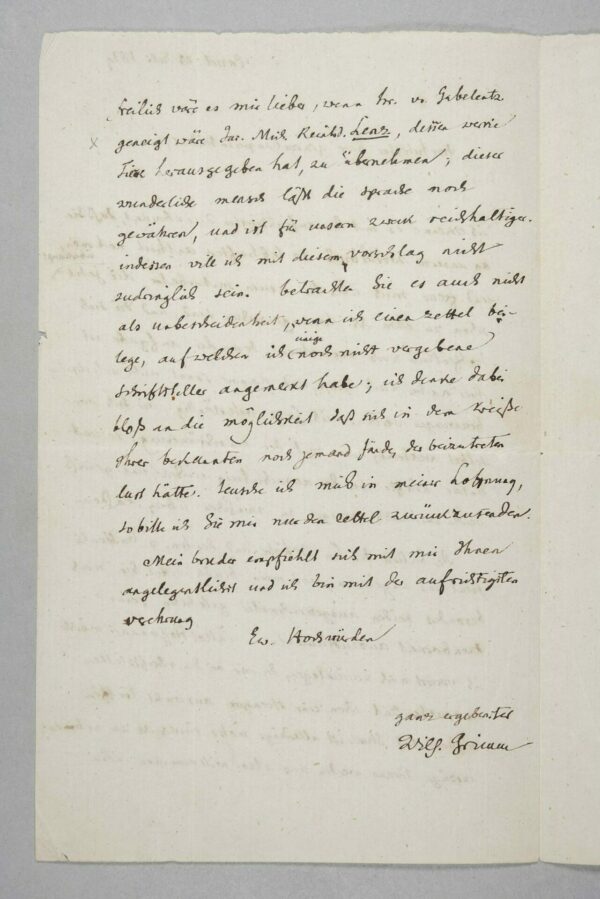 The two-page letter was written in Kassel by Wilhelm Grimm on 14. July 1839, presumably addressed to theologian and General Superintendent Friedrich Hesekiel. He thanks the churchman for his collaboration on the "German Dictionary" and names other contributors who were also recruited to work on it.

The letter, which was written a year after work on the "German Dictionary" had begun, underlines the sheer size of the dictionary project; Wilhelm Grimm mentions about 45 assistants and contributors, expressing the hope that "hopefully they will multiply" and explicitly asking the recipient of the letter to sound out his friends and relations as potential contributors. For Wilhelm Grimm is in no doubt: "the task is large by its very nature and cannot otherwise be completely overcome." Just how large the task really was becomes especially clear in retrospect. The first volume of the "German Dictionary" did not appear until 15 years later, in 1854 – and the 32nd and last volume was not published until 1961, 102 years after Wilhelm Grimm's death.